Purchase
The Process: I create a custom garment experience for clients worldwide by tailoring a leather corset to fit an individual's body and personal style. It doesn't matter where you live, I can accommodate you. In our modern world, it is very rare to be able to choose every detail of how a garment will look. Wilde Hunt Corsetry can provide this luxury experience.
How it works:
Clients may email 

larissa@wildehunt.com

 to discuss the style, color, and theme of their corset commission.
Once we are in agreement, the client fills out a form with the necessary measurements to draft their pattern.
A practice mock-up is sewn and mailed to the client in order to assess the fit of the new pattern.
The client tries on the mock-up and then emails snapshots of them wearing the mock-up for reference.
The client mails back the mock-up and adjustments are made to the custom pattern.
After the fit is perfected, work begins on the custom corset.
Once complete,  your new Wilde Hunt corset is ready to ship.
Options:
Underbust Corsets start at $450
Overbust Corsets start at $600
Custom beading, printing, or appliqué work is calculated on an hourly rate and we are happy to send you a price quote during the consultation process.
A wide variety of high fashion leathers are available for the client to choose from but I am also happy to work with client-provided leathers if they are a suitable strength for corsetry.
Please email us to discuss your commission. larissa@wildehunt.com
Read what our clients have to say about ordering from Wilde Hunt Corsetry here.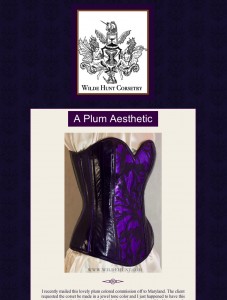 Keep in touch…  Approximately twice a month I email a blog post to my friends. In these emails I talk about the current corsets I am working on, share some beautiful behind-the-scenes photos, debut exclusive promotional offers, and discuss fun, funny, or just plain bizarre corset-related images and news from around the world. If this sounds interesting, please enter your email in the box below. And of course I promise not to share your email address without your permission.